Addis Ababa City Walking

ADDIS ABABA is found at 7,874 feet/2,400 meters above sea level at the heart of the country. It is the third highest city in the world. Addis Ababa which mean New Flower in Amharic language was chosen & named by Empress Taitu. And then, it was established as a capital in 1887 by Emperor Menelik II.
In 1963, Addis Ababa became the seat for Organization of African Unity (now African Union). The United Nations Economic Commission for Africa (UNECA) and many international organizations also based here.
Addis Ababa has a highland climate with average temperature of 20oC or 68oF. It is a vast mushrooming city with nearly six million inhabitants. The streets of Addis are lined with African mimosa, palm trees and Jacaranda. We offer a city walking tour where you'll meet the locals and visit all the best sightseeing with coffee and lunch breaks on your way.
Please contact us for the detailed program and prices.
Harar City Walking Tour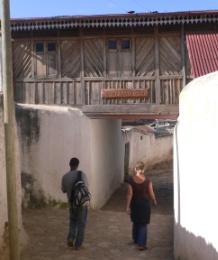 The ancient fortified city of Harar, one of UNESCO's cultural heritage sites, was for many centuries a commercial center of Eastern Ethiopia. The Walls around the old city were built during the 16th century.
Harar is a city of vibrant colors of different ethnic groups, both Muslim and Christian with great tolerance and co-habitation. Harar was also the great center of Islamic learning and the fourth Holy city of Islam with many Mosques and shrines.
Our guided walking tour takes you in to the ancient walled city of Harar which includes the colorful Harari markets, Gidir Megalla, Feres Magala square, the famous French poet Arthur Rimbaud's 18th century house and many buildings with Indian and Arabic architectural influences, the house of Ras Mekonnen, the 16th century Jami Mosque, a local house, and more. You will also enjoy the breathtaking scene of feeding Hyenas by a man also called a "The Hyena Man".