Hiking and Trekking in Ethiopia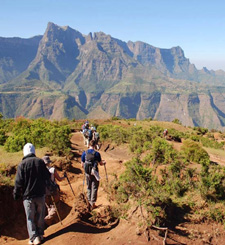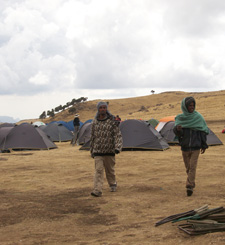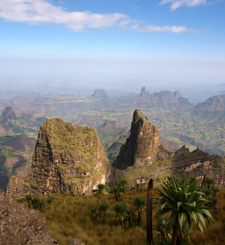 A mountainous country with many spectacular scenic beauty!
The topography of Ethiopia offers mountain trekking and travel activities for trekkers, mountaineers, and travelers who would like an enjoyable hiking in the natural environment. More than one third of the highest range of rugged beauty of the continent is found within Ethiopia and that is the reason why the country is nicknamed "The Roof of Africa".
The two main Ethiopian Highland massifs in particular, the most elevated land northwestern and southeastern form the highest as well as very large area of chained mountains, plateaus and moorlands from the lowest 1500 meters /5000 feet to highest 4624 meters /15,200 feet altitudinal ranges separated by the Great Rift Valley. The main trekking and hiking adventure places are ecologically unique in their bio diversity and habitat. A number of extremely rare species of plants and animals , such as Walia Ibex, Ethiopian wolf, Gelada Baboon, Mountain Nyala and so many birds and plants can be seen in our trekking routes.
Hiking & Trekking Tours in Ethiopia


Join our best organized individual or group mountain hiking tours in Ethiopia!
These hiking & trekking trips take you through our impressive trekking places of interest with different incredible scenic country beauty. You'll also see the isolated rural village life of Ethiopia!

We offer you well designed tours or trips up on your special interest with all outdoor camping supplies as well as experienced professional services along the way.
Our trekking and Mountain adventure tours either in the Simien Mountains National Park or in Bale Mountains National Park can be combined with cultural festivals or special events and excursions to nearby places.