Simien Trekking


UNESCO World Natural Heritage Site since 1978
The Simien Mountains National Park is located 13°-11'N, 38°-04'E in the northern Gondar in the Amhara Regional State at 885 kilometers/550 mile north of Addis Ababa. The Siemen constitutes Africa's highest mountain ranges; the highest point in Ethiopia as well as fourth highest point in Africa Mount Ras Dashen (Ras Dejen). The park was established in 1969 and was made a world heritage site by UNESCO since 1978. It is the last refuge for the extremely rare Walia ibex. The Park covers an area of 136 km2 /53 square miles at middle of the of Ethiopia's historical tourist attractions.
Average Altitude : 4000 meters /13,123 feet.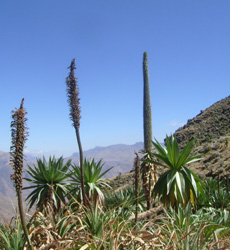 Major Physical Features : Rugged Mountains peaks, plateaus and deep valleys overlooking Ras Dashen (4,624 metres or 15,170 feet) culminant point in Ethiopia. The massif is a result of volcanic activity and glaciations which took place 75 million years ago.
Climate : The Siemen gets 1,500mm average rainfall and two wet seasons within a year from February to March and July through mid-September. The day temperature ranges from an 8°C/46°F to a maximum of 15°C/59°F, at night according to the season it gets more fresher and the temperature drops down to 3°C/37°F. Snow sometimes covers the summit of Ras Dashen.
Flora : Afro-alpine vegetation type with wide plant diversity which consists of woodland, moorland and Afro-alpine species. The cliff edges and the escarpments are covered with grasses and herb of Rumex. The altitude which ranges from 2,800 meters /9,186 feet to 3,500m/11,482 feet is a woodland zone dominantly covered by plants such as Abyssinian Rose (Rosa Abyssinica), Giant Heather (Erica arborea) and St.John's Wort (Hypericum revolutum). The Afro alpine zone above 3,500meters /11,483 feet is mainly grassland with Giant Lobelia (Lobelia rhynchopetalum) and Everlasting shrubs.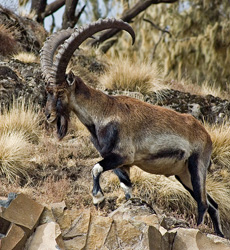 Fauna : About seven endemic mammals have been check listed in the Simien. The Walia Ibex (Capra walie) exclusively endemic to the Simien Mountains is world's rarest animal refuged in the mountain cliffs. Ethiopian or Abyssinian Wolf (Canis simensis) is another endemic animal to Ethiopia which lives on mountain rodents.
The so called bleeding heart Gelada Baboon (Theropithecus gelada) is also one of the endemic mammals to the country that can be seen in large groups in this National Park. Other mammals such as, Klipspringer (Oreotragus oreotragus), Spotted Hyena (Crocuta crocuta) and Leopard (Panthera pardus) are among some refuged in the Simien Mountains.
There are about 140 bird species recorded in the Siemen counting 16 endemic to Ethiopia such as Thick billed Raven (Cornus crassirostris), White collared Pigeon (Columba albitorques) Wattled Ibis (Bostrychia carunculata).
WHEN TO TREK IN THE SIMIEN MOUNTAIN: Except during the rainy season starting in June through mid-September trekking in the Siemen is possible all year round. From the end of the rainy season that is, mid – September up to the end of November is a flowering season of the wild plants in the Park.
We organize hiking & trekking tours to the Simien Mountains escorted by experienced trekking guides. We guarantee you to reach the highest peak in Ethiopia while experiencing the adventure in the wilderness. Please check out Simien Trekking Itineraries